When you need to detox your body, make sure you use only the best detox and colon cleansing products
Once you have made the decision that you are going to do a detox and cleanse, you deserve to use the freshest herbs and best detoxing products available.
If you are going to go through the steps of improving your life, health and energy levels, then you owe it to yourself to do it properly.
How long does a proper detox take?
There are a lot of so called detox products in the market place which supposedly will give you a detox. Unfortunately, the hard hitting truth is that you can't do a detox in 24 hours or even do it properly in 7 days like some programs suggest. Some even say that drinking a couple of cups of so-called weak detox tea will detox you. This is actually nonsense.
It is possible that you may get some benefit from these "dinky" detoxes, but you can't really count on it in such a short space of time. We all wish you could do a detox properly in 24 hours, but it doesn't happen this way unfortunately.
At the other end of the scale you don't have to take 3 months to do a detox either, like some programs would lead you to believe. One of the problems of such a lengthy regime is that most people can't stick to such a long commitment. Also, factually, you can get great results in just a few weeks, so you don't have to take 3 months to get the benefits.
The ideal detox program
After researching this and being involved in the detoxing field for over 9 years we have come to understand the best timeframe which is workable for everyone.
This is why the detox 1 and detox 2 program that we advocate is designed to be completed in just 2 to 3 weeks. You can also do this as part of your everyday routine. You don't have to take time off work or stay at home to do the program.
The detox 3 step takes approximately 5 days and also 5 days for the detox 4 stage.
These form the basis of our Ultimate Detox Program and together with Superfood and Supertonic they form the most comprehensive and efficient detox plan that you can do.
The Ultimate Detox Program special offer
We are pleased to make an exclusive special offer to our internet visitors: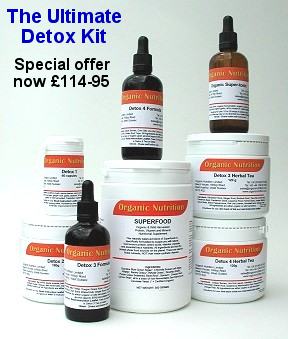 We are giving you the opportunity to purchase our Ultimate Detox kit at a specially reduced price.
The normal price of this complete kit is £135-75 but as a special offer to our website users, the new Ultimate Detox kit price will be just £114-95. This is a saving of 15%.
We know of no better value detox package anywhere. It contains Detox 1 and Detox 2 for the intestines and colon, Detox 3 for the liver cleanse and Detox 4 for the kidney cleanse. It also includes a tub of our superb Superfood formula as well as our Supertonic liquid.
In total there are eight different products all carefully designed to work with each other to produce results. This is our flagship product and we are very proud of the results it can achieve.
Is there anything better?
We have carried out comprehensive searches on the internet to see if there is anything comparable in terms of price or quality. We knew beforehand that there wouldn't be anything better in terms of quality. This isn't arrogance, we just have the inside knowledge that better herbs and other ingredients don't exist. We use the best available.
So the next question was, "is there anything of similar quality to our kit at a better price?"
Following our various searches, we can also confirm that we couldn't find anything to match it for price either. Granted, there are lots of detox products out there, but most use inferior quality herbs (we tested this) and the ones that do have some good herbs in them are more expensive and also don't detox as thoroughly as ours. This Ultimate Detox program detoxes the stomach, intestines, colon, liver and kidneys. It also includes our top selling superfood green energy drink and the supertonic pick-me-up.
We suggest that you do your own research to see if you can buy anything better. If you do happen to stumble upon anything similar to this kit and at this price, please do let us know.
How are we able to make such a good offer?
One of the reasons we can compete so successfully on price is that we are able to acquire all of the herbs direct from our specially contracted organic farms and growers. This cuts out the middlemen and means the farmers and growers get to keep more profit and so they are able to reinvest this back into their farms and so maintain the quality high we demand. This also ensures our ingredients are totally fresh. This make such a difference to the effectiveness of the product.
By offering you this discount we are encouraging you to try our products and to experience for yourself what REAL herbal products can do for you. Hopefully, you will then recommend us to your friends.
For further information about detoxing and to see the individual components of the kit in more detail click here --> colon and detox cleanse products. ( page opens in new window )
Full instructions are included and we can easily be contacted if you have any questions or need any help or advice.

"Make an important decision to improve your health and do the Ultimate Detox program. It is worth it."
  - C.Harrison MD

How to get the special offer
All you need to do to take advantage of this special offer is to add the kit to your shopping cart and go through the simple checkout process. We will despatch your order within 48 hours. This means that you will receive your goods within just a few days and even overseas customers will get their package within approximately 7 days. Please don't hesitate to contact us if you have any questions. We look forward to being of assistance to you.