Organic Nutrition's SuperTonic
Decades ago, we decided that we wanted to create a 100% natural health tonic. It had to be able to be taken by anyone and able to be used at any time they felt under the weather.
We also wanted it to be able to be used on a regular basis as a general all round pick-me-up, if they felt they needed it.
After a great deal of work, we were delighted to create the UK's leading tincture based tonic and it has been so successful that we have never needed to alter the original formula.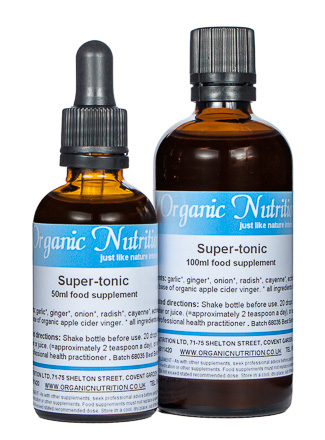 We researched numerous scientific papers, books and articles from many sources before we decided what to include in our Super-Tonic.
Eventually it became quite an easy choice. We wanted something that people could use regularly without getting bored and also something that could be added to meals and especially to salads. In other words we wanted something that would encourage people to take it regularly and so see the benefits.
What are the ingredients in SuperTonic?
We also wanted ingredients that created no dependency and could be used long-term. We have included some of the most powerful natural health boosters available in the western world.
The ingredients consist of a combination of Garlic, Ginger, Onion, Horseradish, Cayenne, Echinacea and Turmeric, all in a base of apple cider vinegar and distilled water.
Of course all ingredients are organic or wild-harvested and the potency of the product is unrivalled. We steep all the ingredients for a minimum of 60 days so as to obtain the maximum benefits.
The Maturing Process
What this means is that the vats containing all of the ingredients mentioned above, are allowed to steep for at least 60 days in the apple cider vinegar and distilled water.
This allows the necessary time for all of the natural chemicals to flood into the liquid. Then when we feel the maximum strength has been achieved, we cold press each of the vats, to produce the liquid SuperTonic.
We firmly believe that this superb combination is practically unbeatable.
Some suggested uses
By themselves, each of the ingredients has numerous well documented benefits to health. Together they form the basis for a supreme health program. This is such a popular product that we offer it in two sizes, 50ml and 100ml.
Super-Tonic can be taken straight or mixed with juice, such as orange or apple, or just with water. Take from 10 to 30 drops at a time, two or three times a day.
If you were not feeling at your best, or rundown, it could be used more frequently, even every hour if needed. This is a great way to speed up recovery.
You can also add it to salads as a salad dressing with a bit of olive oil and so create a 'power-salad'.
We have also heard of folk using it on french fries when they decide to treat themselves ;-)