Here's a picture of this evening's meal (see below for the full day's food):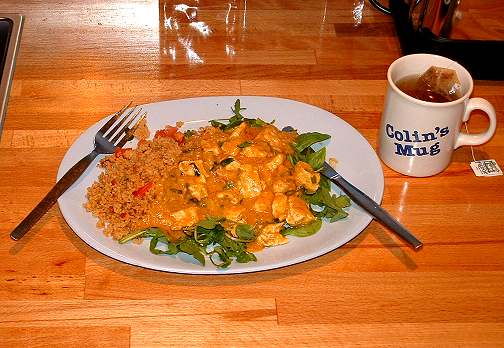 Breakfast
bowl of organic porridge
made with powdered skimmed milk & water
2 scrambled egg whites
pinch of sea salt added
two glasses of filtered water
one capsule of slimming formula
Mid-morning
banana
cup of herbal tea
Lunch
small tin of salmon
two heaped tablespoons of cooked cous cous
a few sun dried tomato pieces
a few long green beans chopped up a glass of filtered water

Mid-afternoon
half a mango
banana
a glass of filtered water
a half glass of apple juice with a heaped teaspoon of
superfood
Evening meal (see picture above)
chicken breast chopped up and cooked in a little olive oil
with a clove of garlic and some tarragon herb added. A ready
made korma sauce was poured over and gently simmered for another
ten minutes.
bed of spinach and watercress leaves
heaped tablespoon of cous cous.
cup of herb tea
Late snack (if necessary)
none


Other
During the day I also drank a few other glasses of water
Exercise - 20 minutes
(I try to make as many food items as possible organic.
 Complete details on the diet and all exercise secrets,
 are contained in the soon to be released program.)
>
Back to the main demo page