Fenugreek, Saw Palmetto and Guarana are popular male herbs
These three popular herbs can be used together, but most commonly they are used individually for specific reasons.
These are of extremely high quality and there are no other ingredients or fillers or binders in the capsules. The liquid versions of these products are slightly more popular.
You can take these products up to three times a day and we suggest, morning, afternoon and evening for best results. If you need any more information then please contact us.
Organic Fenugreek is often used as an aphrodisiac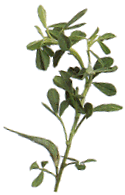 Birds foot, the plant's common name, refers to the trifoliate shape of the leaves, which resembles the structure of a birds foot. For its culinary and medicinal qualities, fenugreek has been valued since the time of the ancient Greeks. The aromatic seed has a slightly bitter celery-taste, and is roasted in the Middle East as a coffee substitute.
Fenugreek has acquired a reputation as an aphrodisiac. Chemical analysis has revealed the presence of diosgenin, a substance that acts in a similar way to the body's own sex hormones.
Fenugreek is anti-inflammatory, antiseptic, soothing and has expectorant qualities. It could help to ease coughing etc.
In women it should not be taken during pregnancy as it promotes menstruation. Apparently, after birth it is a well know safe way to stimulate the flow of breast milk.
Saw Palmetto and male problems
Saw Palmetto is a small palm-like tree grown in the West Indies and the south-eastern U.S., particularly Florida around the Everglades.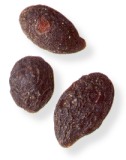 There are a number of uses of Saw Palmetto but the most famous and most researched is the positive benefits in treating mens' problems, particularly those concerned with difficulty when urinating and for all prostrate conditions. Certain substances in the plant help prevent chemical changes to testosterone which could otherwise result in this painful condition.
Women too have benefited from taking this herb.
A century ago this herb was known for its success in breast enlargement. Some research demonstrates that a chemical found within the herb has aphrodisiac effects for both men and women.
Guarana is commonly used for energy, potency and stamina
The Amazon Indians have used guarana (pronounced gwa-ra-naa) for centuries for a wide variety of purposes. Warriors would consume large amounts of guarana before going into battle to provide energy and endurance.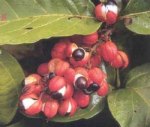 <>The guarana berry is cultivated in the Amazon and has been consumed by the Andirazes people of Brazil for thousands of years for its stimulating effect on mind and body.
Researchers say that it stimulates the nervous system and helps one stay awake and alert. It is well known for its aphrodisiac properties and to stimulate and enhance sex drive!
Guarana contains a chemical called guaraneine which gives a boost of energy and helps to suppress appetite a little. Increasing numbers of athletes, dancers and sportsmen and women are using it as a natural aid to maintaining peak performance.
This is how to purchase Fenugreek, Saw Palmetto or Guarana products


Delivery takes just a few days in the UK and worldwide in approximately 7 working days.


On this page: