Goldenseal can help boost one's immune system
Goldenseal is a very highly regarded Native American medicinal plant. It can be found in Canada and the eastern parts of North America.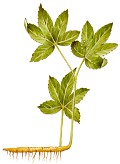 It is now quite rare to find in the wild, presumably because it prefers shady woods and meadows with rich, moist soils which are less common.
Unfortunately another major reason for it being in short supply is over-exploitation. Because of its effectiveness, too much has been harvested over the years and it has left seasonal shortages in many parts of the world.
This popularity really took off since about 1850 and it has remained popular ever since.
If many farmers and sellers had cared more about the long term sustainability of this incredible plant, then this could have been avoided. Greed and lack of care has led to this current problem.
Some commons uses of the herb
This herb has many uses and one of its prime ones is in the treatment of inflammation of the digestive system.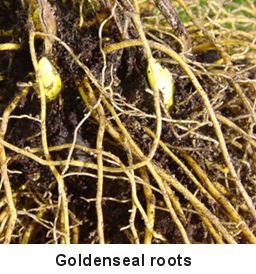 The root of the plant is the most useful part of it and it contains a chemical called berberine which acts as a powerful anti-fungal and anti-bacterial compound. There are also numerous other related natural chemicals in the plant and root.
Goldenseal is sometimes given the name orangeroot and you can see why in the picture. It has proven very effective against parasites and in stimulating the immune system.
Because of this it is often used to help with mouth ulcers. Apparently it reportedly increases the blood supply to various digestive parts. This helps the body fight off infection. The improved blood supply can help the immune system fight off the affliction.
Our research suggests that Goldenseal is best taken in liquid form as it is easier to digest this herb this way.
We suggest that 15 drops of goldenseal are taken two or three times a day. You can simply add the drops to a little water, or juice such as apple, orange or grape juice etc.
More information
If you were to chew some goldenseal root, you would notice a rather bitter taste. This seems a common trait of certain plants and herbs which have a mild cleansing effect and may help soothe the digestive tract.
It is not usually recommended during pregnancy or when breastfeeding.
It is usually best to only take this supplement as and when needed. Of course, this may be just for a few days or a month or two. It is common practice to avoid taking this herb continually for long periods. We normally find a period of 4 to 6 weeks is the right period of time before choosing something else for a similar time and then using goldenseal again if necessary after this.
What people do is cycle through a few similar herbs so that their bodies do not become dependent on one particular natural chemical, or build up a resistance to them.
To order