Black Cohosh Root
In the black cohosh article below you will find some information about menopause, pregnancy, labour and hot flashes & flushes.
Menopausal Symptoms and hot flushes

Traditionally, Black cohosh has been used mainly by women for alleviating hot flushes and other menopausal symptoms.
Black cohosh (known as both Actaea racemosa and Cimicifuga racemosa), a member of the buttercup family, is a plant that is native to North America. However, its popularity has grown to all parts of the world.
Black cohosh was used in North American Indian medicine for malaise, gynecological disorders, kidney disorders, malaria, rheumatism, and sore throat. It was also used for colds, cough, constipation, hives, and backache and to induce lactation. It was often called Black Snake root as it was sometimes used to help combat poison spreading from snake bites.
More information about how and where it grows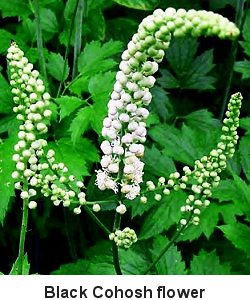 The plant likes to grow in woodland areas, especially in small clearings between established trees.
It is thought that is prefers damp areas, whilst tending to not grow well in areas with too much moisture.
In the field of plant categorisation, it has held positions in a few different families of plant, before currently being classified in the Actaea category.
A plant with a similar name "Blue Cohosh" is not in fact related and it has no similar historic health uses.
It is actually the root of the plant that is the most commonly used part.
The Woman's Herb
It has been used for centuries to help with conditions that affected women's reproductive organs (including menstrual problems, inflammation of the uterus or ovaries, infertility, threatened miscarriage, and relief of labour pains).
Studies have shown that black cohosh is a root that has estrogenic properties; it supplies estrogenic sterols which are the beginnings for steroid hormones like estrogen, progesterone and tester one.
It is said to possess relaxant properties which may affect uterine contractions so that heavy bleeding is decreased. This herb may also contain substances that act as pain relievers and sedatives.
Other Information
Each capsules contains approximately 350mgs of pure organic Black Cohosh.


Take one to three capsules daily or as recommended by a health practitioner.


This product should not be used if you are pregnant or trying to become pregnant or if you are breastfeeding.


Do not take this product for more than six months.

Common Names
Other common names include black snakeroot, bugbane, bugwort, rattleroot, rattletop, rattleweed, and macrotys. Insects avoid it, which accounts for some of these common names.
If you would like details of any of the various studies done on Black Cohosh then please drop us an e-mail and we will gladly send you some information.